Song Stuck on the Brain: You and I by Crystal Gail and ?
I heard the worst news today. Stargate SG-1 is being cancled. I want to cry. After 10 fabulous years, they are planning to air the final three episodes next year.
What will I do without Daniel, Sam, T'ealc, Cam and Valla? Or Thor or Baal?
I love the series' spinoff, Stargate Atlantis, but it just won't be the same. I'm hoping for some continued crossovers and guest appearances on Atlantis. Maybe they'll even do some more Stargate movies. Still, it just won't be the same.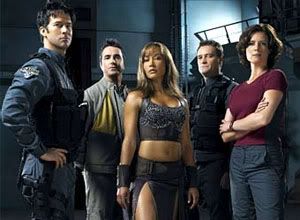 Darn you SciFi channel! The number of really good Science Fiction shows is dwindling rapidly. Once SG-1 is gone, I'll only be left with Eureka and Atlantis. (I just can't get into Battlestar Galactica. They ruined it for me. Starbuck should NEVER have been cast as a girl!)
We need to have a worldwide SciFi uprising among the fans. Bring back Firefly, Enterprise, Invasion, Surface, John Doe... . And I don't mean just in syndication! Seriously, they've got to quit canceling all our shows!
Wave your Vulcan hand if you feel me.
A.
Sci Fi closes 'Stargate SG-1'

Show has run 10 years; studio hoping to continue franchise
LOS ANGELES, California (Hollywood Reporter)
-- Sci Fi Channel is grounding "Stargate SG-1," the longest-running science-fiction series on U.S. television to date.
The cable network has decided not to order additional episodes beyond the show's current 10th season, but it has picked up a fourth season of its more-popular spinoff, "Stargate Atlantis."
"Stargate SG-1," based on the 1994 movie starring Kurt Russell and James Spader, spent its first five years on Showtime -- which annoyed the show's producers by demanding full-frontal nudity -- before migrating to Sci Fi. Its 200th episode aired last Friday.
"Having achieved so much over the course of the past 10 years, Sci Fi believes that the time is right to make this season their last on the channel," Sci Fi said.
The show's ratings have softened in recent years and series star Richard Dean Anderson left last season, but it boasts a strong fan base, with as many as nine official conventions taking place worldwide every year. Producer MGM is exploring the possibility of taking the series to yet another outlet.
"MGM has tremendous amount of confidence in 'Stargate,' and we are vigorously working to continue the franchise," studio spokesman Jeff Pryor said.
The final three episodes of "Stargate SG-1" are slated to air on Sci Fi Channel next year. Both "Stargate SG-1" and "Atlantis" also run in syndication.
Copyright 2006
Reuters
.
Find this article at: http://www.cnn.com/2006/SHOWBIZ/TV/08/22/television.stargate.reut/index.html