Did you all hear this story on the news? I can't even imagine how devastating this would be. On one hand, it would be like a miracle to discover your daughter wasn't dead. On the other, you have a family who invested five weeks in hope and prayers, only to have them dashed. I'm glad that both families have a relationship with Jesus. It would be near impossible to handle this ordeal otherwise.
Michigan

WHITNEY LIVED, NOT LAURA: ID mix-up after crash in Indiana stuns the families of 2 Michigan women
June 1, 2006 BY JIM SCHAEFER, CECIL ANGEL and BRIAN DICKERSON
FREE PRESS STAFF WRITERS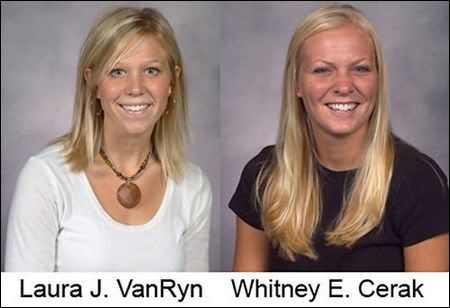 She emerged from her coma-like state and started to speak more than two weeks ago.
By Memorial Day, the young woman in the Grand Rapids hospital was playing a board game with a therapist, walking a bit and passing simple tests like reading signs out loud.
But, to the family gathered at her bedside, she was still saying things that didn't make sense.
Now they know why: She wasn't their sister and daughter, Laura VanRyn, 22, whom everyone believed had survived a van crash five weeks ago. In an incredible mix-up, she was really VanRyn's fellow student, Whitney Cerak, an 18-year-old woman also in the April 26 crash that killed five people along an Indiana highway.
Cerak's parents, meanwhile, believed they had already buried their daughter near their home in Gaylord.
On an Internet blog site, where the VanRyns posted what they believed were updates on Laura VanRyn's condition since April 28, sister Lisa VanRyn wrote Wednesday: "We have some hard news to share with you today. Our hearts are aching. ...
"Over the past couple of days, as Whitney had been becoming more aware of her surroundings, she'd been saying and doing things that made us question whether or not she was Laura."
Bruce Rossman, a spokesman for the hospital, said the VanRyns told him of their suspicions.
"When she was called 'Laura,' she would say 'Whitney,' " Rossman said.
In Indiana, the Grant County Coroner's Office notified the family and Taylor University, in Upland, Ind., where the two women were students, about the mix-up after a positive ID was made this week.
On Wednesday, Coroner Ron Mowery explained the confusion by saying that IDs were strewn about the accident scene and one of the first rescue workers apparently attached VanRyn's identification to Cerak as she was airlifted to a Ft. Wayne hospital.
Mowery said faculty from the school identified VanRyn's body as Cerak. Family members were not consulted, he said, adding that regulations don't require him to do so.
"This is one of the most tragic upon tragic experiences," Mowery said. "We did what was routine."
The women's families weren't available for comment, except through a joint statement released to the news media.
According to the statement, both women had similar builds, facial features and long blond hair. Cerak's injuries included a broken elbow, a broken leg, ribs and clavicle, cuts, bruises and facial swelling. She also was wearing a neck brace during her recuperation.
Progress with frustration

Cerak had been staying at a rehabilitation facility in Grand Rapids, near the VanRyns' home. Although she could respond to some simple commands just days after the crash, the VanRyns said she remained in a coma-like state until May 16.
The family's Web site updates indicated she had a tracheotomy that would have made speech difficult but, after it was capped on May 15, she responded to physical therapy and questions. But she seemed frustrated at times.
She tried to tear her neck brace off at one point. At another, she took a swing at one of the VanRyns.
Rossman said that recently Cerak "began to look more like her usual self."
Confirmation of the mix-up was made through dental records, and Cerak's family traveled to the woman's bedside Wednesday.
At the VanRyn home in Caledonia, near Grand Rapids, a reporter was asked to leave.
On the Web log, Lisa VanRyn wrote: "For us, we will mourn Laura's going home and will greatly miss her compassionate heart and sweetness."
Looking back and forward

VanRyn died in the crash April 26 on I-69 northeast of Indianapolis as she and a group of nine other Taylor students and employees were returning to the school.
A tractor trailer driven by Robert Spencer, 37, of Canton drifted across the median and smashed into the van, police say.
Several of the van's passengers were thrown from the vehicle. Authorities are still investigating. Spencer referred questions to his lawyer but did not identify his attorney before hanging up.
A month ago, an overflow crowd of more than 1,400 people turned out for what they thought was Cerak's funeral in Gaylord.
Joe Sereno, associate pastor at Gaylord Evangelical Free Church, told the Associated Press the casket was closed both for visitation and for the funeral. It was not immediately known if or when VanRyn's body would be exhumed, but a memorial service is planned for Sunday in Grand Rapids.
A speechless father
Outside the Cerak family home Wednesday evening, motorists honked their horns and passersby left flowers and notes.
Neighbor Sue Awrey dropped by the home to pick up Hunter, an aging golden retriever belonging to the Ceraks.
"I really can't describe my emotions," said Awrey, a teacher who has known Cerak's mother, Colleen Cerak, and her family for 16 years. She talked to Cerak's father, Newell Cerak, earlier Wednesday. "I said, 'I really don't know what to say.' He said: 'I know. I'm the same way.'
"You wonder what she's gone through for five weeks, lying in a hospital with all these strange people around," Awrey said of Whitney Cerak.
"A lot of people here are struggling to process it, too. My 9-year-old said to me, 'But mom, we went to her funeral, I cried for her.' "
Contact JIM SCHAEFER at 313-223-4542 or
jschaefer@freepress.com
. Naomi R. Patton, Dawson Bell, Ben Schmitt and the Indianapolis Star contributed to this report.
Copyright © 2006 Detroit Free Press Inc.