Song Stuck on the Brain: Thermal King Windows radio jingle.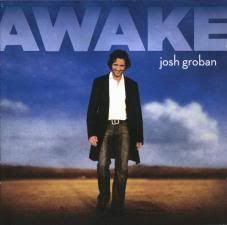 Thankfully, I've had some really great music today to combat that jingle. We just got
Josh Groban's
new cd
Awake
.
It's Amazing. It's stunning. He's got to be one of the most blessed guys on earth. He was born with an incredible talent. Not only can he sing like an angel, but he plays multiple instruments and writes music too. His skills really shine on this cd as he steps up and takes a more prominent roll in the song writing, working with, to name a few, Imogen Heap, Dave Mathews and John Ondraisik from Five for Fighting.
He's included more english lyric songs on this album, which is kind of nice. Just off the cuff the songs that have caught my attention the most are Lullaby (written with Dave Mathews) and Un Giorno Per Noi (Romeo e Giulietta) an adaptation from the love theme from 1969's Romeo and Juliet. However, it's really hard to chose a favorite among them.
This is Josh's third album, and usually I find that no matter how much I like an artist there is usually one album that stands out more than the others. But I really can't say that with Josh, because all of the albums are phenomenal.
I've listened to him on repeat for most of the day, and I'm still not tired of hearing him sing. If you enjoy his music at all, then check this cd out.
A.
CFBA:
Scoop
by
Rene Gutteridge
. For a fun interview with Rene visit
Scrambled Dregs
.